Teeth Whitening – Webster, MA
Get the Sparkling Smile You Deserve
Do you find yourself wishing your teeth were whiter when you see your smile in the mirror or in pictures? If so, you're certainly not alone. According to recent statistics, 37 million Americans used teeth whitening products just in the last year. Unfortunately, store-bought teeth whiteners often have disappointing results and can cause tooth sensitivity. If you want a reliable, comfortable way to get the sparkling smile you deserve, come see us here at Webster Lake Dental for teeth whitening! Our professional treatments use powerful ingredients to help you achieve the look you've always wanted. To learn more, give us a call today!
Why Choose Webster Lake Dental For Teeth Whitening?
#1 In-Office & At-Home Options Available
#2 High-Quality Ingredients for Reliable Results Every Time
#3 Specialized to Minimize Tooth Sensitivity
Who Is a Good Candidate for Teeth Whitening?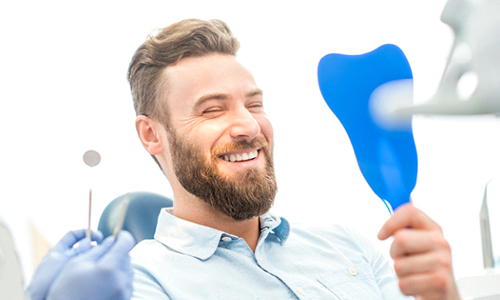 Teeth whitening is one of our most popular cosmetic options available, and it's easy to see why! Teeth whitening can help practically anyone brighten their smile by up to eight shades. When we see you for your initial consultation, we'll make sure that teeth whitening is a good choice for you by discussing your goals for your smile and examining your teeth. Oral health issues like gum disease and tooth decay can make teeth whitening uncomfortable, so these issues will need to be treated first. Very young children and those with discoloration from antibiotics or injury may not qualify for teeth whitening. However, most teens and adults are excellent candidates.
How Does Teeth Whitening Work?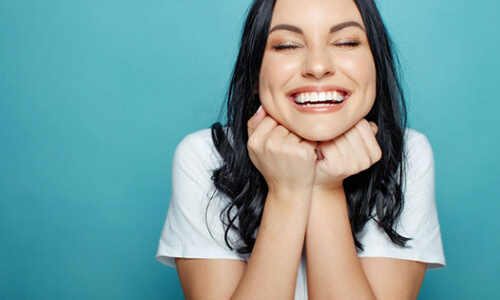 At Webster Lake Dental, we use teeth whitening products from trusted brands with high-quality materials. Our professional-grade whitening agents are specially designed to seep deep into the enamel and break up tough stains to leave your enamel noticeably brighter, all while minimizing tooth sensitivity.
We want to help you achieve the smile you've always wanted in a way that's best for you, which is why we offer two unique types of teeth whitening treatments:
Take-Home Teeth Whitening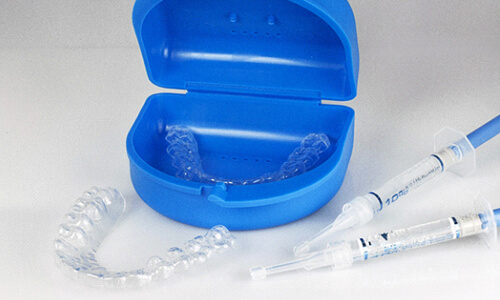 With one of our personalized take-home teeth whitening kits, you can get professional whitening results from the comfort of home. We'll design custom-made whitening trays that you'll take home and use with pre-measured doses of whitener. You'll wear your whitening trays for a set amount of time every day. This can be while you watch TV at night, do chores around the house, or whenever it best fits into your schedule. In about two weeks, your smile will look absolutely dazzling.
In-Office Teeth Whitening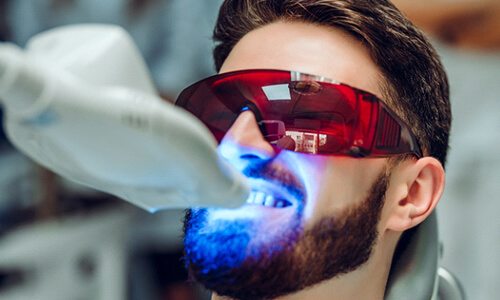 If you'd rather have your teeth whitened right away, perhaps because you have a wedding or job interview coming up, then an in-office teeth whitening treatment is the perfect choice. We'll simply apply our professional whitening gel onto your teeth and shine a specialized blue light on it for a set amount of time. Then, we'll wipe off the excess gel, evaluate the results, and repeat the cycle as necessary. In a single appointment that can be as short as an hour long, you'll walk out of our office with a truly stunning smile.
Tips for Maintaining Your Brighter Smile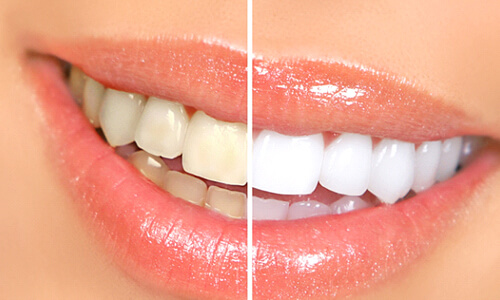 With the right care, your sparkling smile can last a year or longer. Make sure to maintain your results by:
Practicing great oral hygiene
Avoiding or limiting dark-colored foods and drinks
Staying hydrated and drinking water throughout the day
Visiting us twice a year for checkups and cleanings
Teeth Whitening FAQs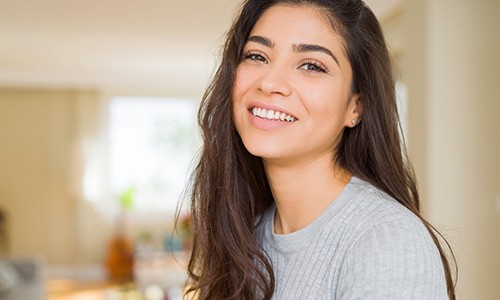 Do you still have a few lingering questions about teeth whitening in Webster? Our friendly and knowledgeable team is here to help! To begin, we'd be more than happy to answer any questions you have over-the-phone or in-person during your consultation. If you'd prefer to continue your research online, then keep reading – we'd responded to some of the most frequently asked questions right here.
What's the Difference Between Professional and Store-Bought Teeth Whitening?
Since over-the-counter teeth whitening kits are marketed as an incredibly effective alternative to professional treatments, it's not surprising that many patients are confused about the differences between the two. One of the first things to note is that store-bought alternatives have diluted brightening agents and one-size-fits-all applicators. They also don't take into account existing oral health problems, like tooth decay and gum disease. For these two reasons, the results are often uneven, lackluster, and unimpressive. In short, even though the upfront price of these products is cheaper, you could end up spending just as much money trying to achieve the result you would've with one round of a professional teeth whitening treatment.
Does Teeth Whitening Damage Enamel?
Teeth whitening treatments do not damage healthy enamel. Of course, if your teeth are compromised by a serious dental problem, like tooth decay, then a whitening treatment will only exacerbate the issue. That's why our cosmetic dentist in Webster always conducts a thorough dental exam during the initial consultation. Don't worry though – our comprehensive array of restorative services can address the root of the problem, restoring your oral health in the process. This way, we can make sure your beautiful smile has a healthy foundation.
How Long Does Teeth Whitening Treatment Take?
Do you have a big job interview or special event rapidly approaching? Then you may be wondering how long teeth whitening treatments take. In short, the answer depends on the type you choose. While a professional take-home kit is designed to gradually brighten your smile over the course of a few weeks, in-office alternatives can whiten your teeth by eight shades in a single visit! Either way, the sooner you schedule your initial consultation with us, the better. This will ensure you have the smile you've been dreaming of in time.
Does Teeth Whitening Work on Dental Crowns?
Unlike your natural teeth, your dental crowns are compromised of materials like porcelain, not enamel. For this reason, whitening gels do not work on them. In fact, these products can weaken the bond between your tooth and your restoration. So, if you are unhappy with the color of your dental crown, the best course of action is to talk to your dentist. With your dental needs and smile goals in mind, they can help you determine the next best steps, so your smile is both fully functional and absolutely beautiful.