Emergency Dentistry – Webster, MA
Advanced Dental Care When You Need It Most
Dental emergencies are not as common as other types of emergencies, which is just one of the reasons why patients don't know what to do if and when they occur. Unfortunately, many also aren't aware of what constitutes as a dental emergency. At Webster Lake Dental, we want to help you get your emergency treated as soon as possible, whether it's a severe toothache or a broken or knocked-out tooth. We're prepared to answer the call if you have an oral infection caused by tooth decay or experience a bad fall while playing sports. Give us a call to get started with emergency dentistry in Webster, MA!
Why Choose Webster Lake Dental for Emergency Dentistry?
Saturday Appointment Hours Available
Open as Early as 8 a.m. on Business Days
Wide Variety of Services in a Single Location
How to Handle Dental Emergencies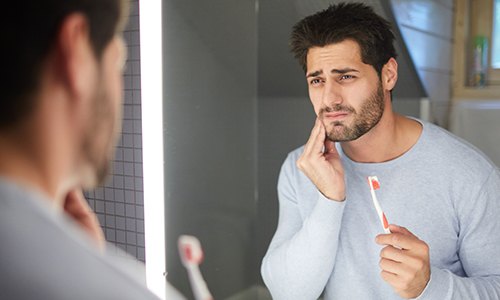 As soon as you recognize your dental pain or injury as a potential emergency, you should call our dental office. Ideally, you should have an emergency appointment made on the same day as your call so that you can be treated right away. Of course, you do need to take steps to make sure your teeth and gums stay in a stable condition until a permanent solution is found. Call an emergency room if you're bleeding uncontrollably or are suffering from a broken jaw. Otherwise, follow the tips below to keep yourself comfortable until you can get to our dental office.
Toothaches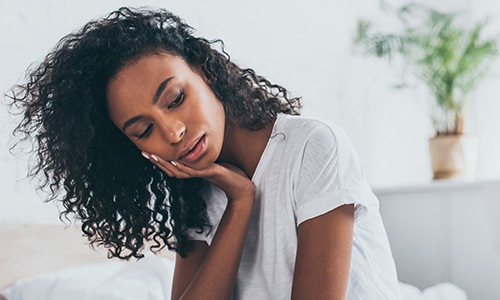 There might be some food debris caught between your teeth; remove it with dental floss when possible. You can also find relief with over-the-counter painkillers. However, aspirin should be avoided, as it's known to cause a burning sensation if it comes in contact with the teeth or the gum tissue. Take note of any swelling and use an ice pack if necessary. We'll check for signs of a tooth infection during your emergency appointment; we may have to perform root canal therapy to save the tooth from extraction.
Chipped/Broken Teeth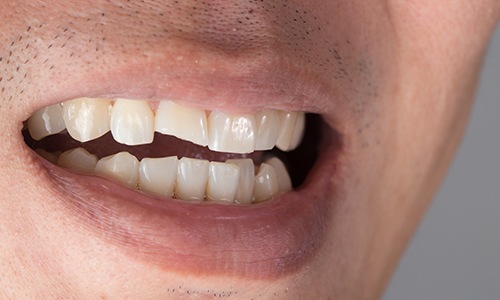 Locate the broken pieces of the tooth, gather them, and bring them with you to your emergency appointment. Take a cold compress and apply it to your face in ten minute intervals to reduce any swelling. If you need extra help managing the pain, take ibuprofen or another appropriate painkiller. You should protect the tooth by only eating soft foods until you've been properly treated; if there's too much damage, the tooth might need to be extracted.
Knocked Out Tooth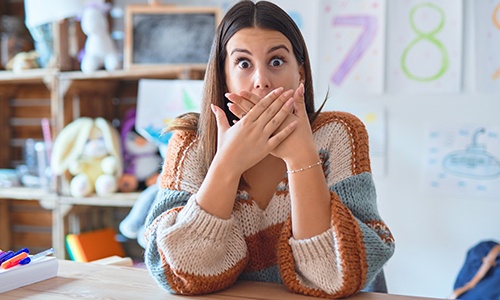 First, remain calm. Look for the tooth and pick it up carefully by the crown (the part that you see when you smile). Rinse it off very gently under cold water; do not scrub it. Try to place the tooth back in its socket if possible in order to preserve the living cells that are essential for replantation. Alternatively, you can keep it in the space between your cheek and gums, or you can store it in a container of milk. Get to our dental office within the hour; waiting too long could jeopardize our chances of saving the tooth.
Lost Filling/Crown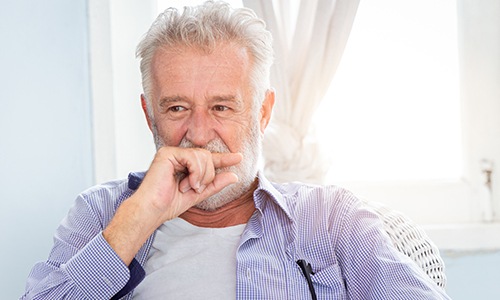 A missing crown or filling usually leaves the tooth feeling rather sensitive. If you can, try to put the restoration back in its place using a denture adhesive, dental cement, or petroleum jelly. This doesn't permanently fix the problem, but it does at least provide the tooth with some level of protection until your appointment. Sometimes clove oil can be used to relieve your discomfort if you're unable to put the restoration back in its place.
How to Prevent Dental Emergencies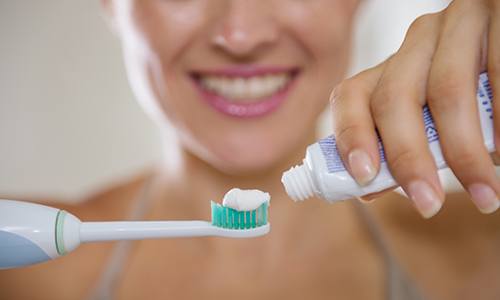 Oral hygiene is an important cornerstone of preventing dental emergencies. Regular brushing and flossing are a must, of course, but you also need to continue visiting our dental office twice a year for routine checkups so that we can clean the spots of the mouth that you've overlooked. In order to protect yourself from sudden accidents, you need to exercise common sense and take preventive measures where you can. Avoid bad habits like opening packages with your teeth or chewing ice; these can weaken the teeth over time and eventually lead to an emergency situation. Get a mouthguard if you play sports or if you grind your teeth at night.
The Cost of Treating Dental Emergencies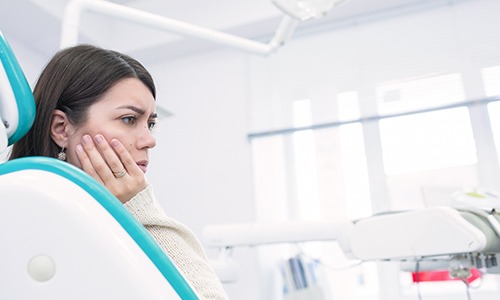 Will you just need a filling for your cavity, or has decay reached the point where a root canal is required? Can the tooth still be repaired with a dental crown, or will we need to remove and replace it? Some emergency treatments are less expensive than others, but putting off care is a sure way to allow the condition to worsen. We'll do all we can to address your unique needs while helping you find relief from your dental pain, and we'll aim to keep the costs as low as possible for you while still fully addressing your oral health.
Dental Emergency FAQs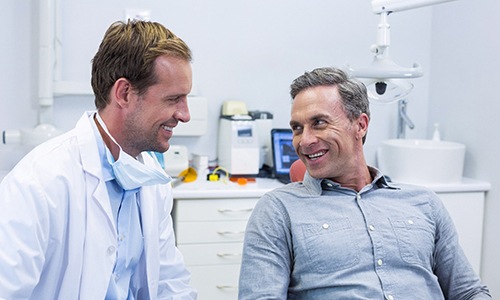 From proper prevention to the cost, the above information is designed to make handling a dental emergency in Webster as stress-free and seamless as possible. Nevertheless, it's completely natural to still have a few questions on your mind. Don't worry – we're here to make finding the answers easy too! While we'd be happy to answer your questions over the phone, we've also responded to a few of the most frequently asked ones here.
How should I sleep with tooth pain?
Sleeping with tooth pain can be difficult, if not impossible. Luckily, there are a few tips you can use to help get a restful night's sleep. First, make sure to avoid acidic, crunchy, and cold foods and beverages at dinner since these can exacerbate any sensitivity you're experiencing. Next, place a cold compress against the outside of your cheek for 10 minutes at a time. If you're still uncomfortable, try taking an over-the-counter pain reliever. Lastly, prop your head up with multiple pillows before going to bed. This will prevent blood from rushing to your head throughout the night. Remember, these are just short-term solutions; priority number one should be to schedule an appointment with our team as soon as possible.
Do I need to visit for minor chips to teeth?
Minor chips may not seem like a big deal, especially if the tooth and surrounding tissue aren't sensitive. However, the tooth in question is likely vulnerable to further damage. Furthermore, a sharp or jagged edge can lead to cuts to your gums, lips, and the inside of your cheeks! For this reason, it's important to get in touch with our emergency dentist in Webster. Not only will we be able to examine the tooth, but we will also share the next best steps for restoring its look and function.
Can superglue be used to repair broken dentures?
If your dentures split in two or shatter into multiple pieces, do NOT attempt to remedy the situation with superglue. This powerful binding agent contains toxic materials that are not safe to ingest. Instead, contact our team right away. Once we get an appointment for you on the calendar, we can assess the damage and determine the next best steps.
Is my tooth pain from an infection?
Are you struggling with a sore or throbbing toothache? Do your gums look red or swollen? Have you noticed other uncommon symptoms, like chronic bad breath or a bitter taste in your mouth? Then it's possible! With that being said, the only way to know for certain is by scheduling an appointment with our skilled dentist. From there, they will determine the root of the issue with high-quality X-rays and a thorough dental exam. If it is due to an infection, then the appropriate treatment will be administered to restore the look and function of your smile.
What does chronic bad breath mean?
If you recently ate a pungent-tasting food, like an onion, then bad breath is nothing to be worried about. On the other hand, if you are experiencing consistent bad breath that can't be addressed by brushing your teeth or chewing on sugar-free gum, then it could be the result of a dental problem, such as gum disease. Therefore, if your bad breath doesn't go away after a few days, get in touch with our team for a dental checkup.