Dentures – Webster, MA
Quickly Regain a Complete, Beautiful Smile
If you're missing many or all of your teeth, you already know that tooth loss can be devastating. From smiling with confidence to eating your favorite foods, an incomplete set of pearly whites can take a huge toll on your quality of life. Thankfully, at Webster Lake Dental, we can help you regain a complete, beautiful smile that you'll be proud to show off with custom-made dentures! Whether you're interested in partial dentures, full dentures, or even implant dentures, our talented team has the technology and experience you need to overcome moderate to severe tooth loss. To get started, give us a call today to schedule your consultation and discuss your options for dentures in Webster, MA!
Why Choose Webster Lake Dental For Dentures?
#1 High-Quality Materials for Beautiful, Long-Lasting Results
#2 Dental Insurance Welcome & Flexible Financing Available
#3 Evening and Weekend Hours for Convenient Appointments
Are Dentures Right for Me?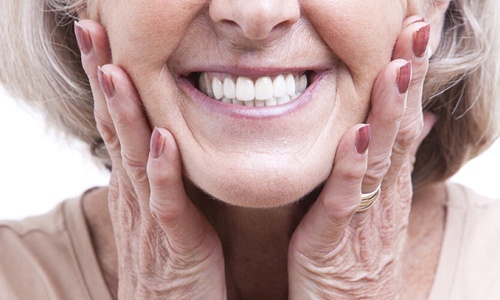 Dentures remain as one of the most popular ways to rebuild smiles because practically anyone missing most or all their teeth can get them. To be considered a good candidate, we'll need to make sure your mouth is free of oral health issues like decayed teeth or gum disease. Once you've completed any necessary preliminary treatments, such as tooth extractions or periodontal therapy, we'll help you determine which type of dentures are right for you.
Types of Dentures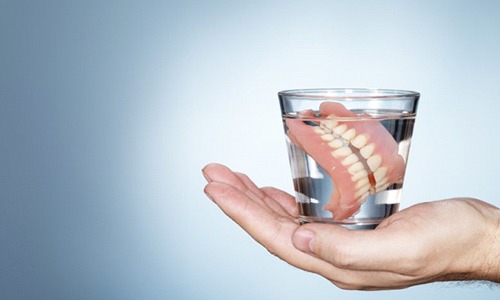 For many people, the word "dentures" brings to mind a very specific image of a complete set of removable teeth. However, there are several different types of dentures to choose from depending on your unique needs and goals. Depending on your oral health, budget, and how many teeth you're missing, we will recommend one of the following options:
Partial Dentures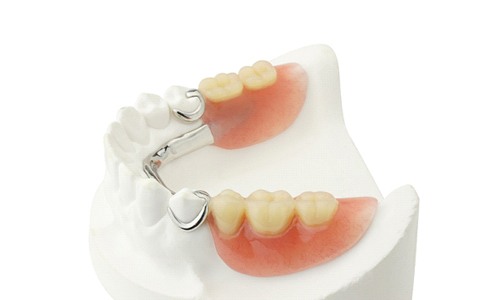 Partial dentures are a great choice for patients who are missing teeth, but still have some healthy tooth structure left. This type of restoration is precisely designed to fit around and between any remaining teeth to fill the gaps seamlessly, like a puzzle piece. A partial denture is held in place with small, discreet metal wires and clasps that wrap around natural tooth structure.
Full Dentures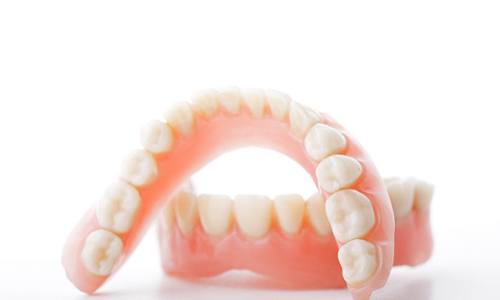 The most commonly thought-of type of dentures are full dentures. This complete set of replacement teeth is set into a gum-colored acrylic base to restore an entire arch. The base is crafted to fit snugly over the top of your gums, creating a strong, natural suction which holds it in place while you talk, eat, and smile.
Dental Implant Dentures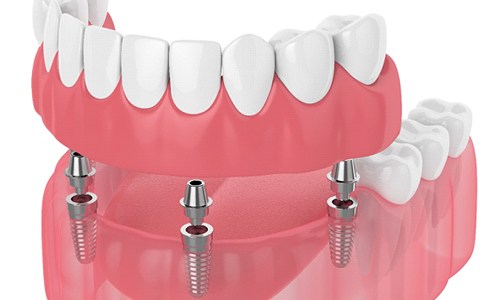 The latest method of tooth replacement involves dental implants. Four to six of these small titanium posts can be inserted into your jawbone to securely anchor a full or partial denture in place. This unique option replaces both the roots and crowns of missing teeth for optimal results, but you'll need to have a strong, healthy jawbone in order to be a candidate for this procedure.
The Benefits of Dentures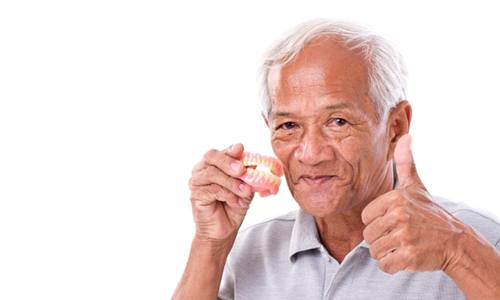 Dentures are a classic tooth-replacement option that offers a multitude of benefits, including the fact that they are a cost-effective and non-invasive way to replace missing teeth. However, those aren't the only reasons patients of all ages continue to use this tried-and-true restorative service. Here are a few noteworthy benefits to consider if you're still in the process of deciding which tooth-replacement solution is best for you:
Psychological Benefits
There's no denying the toll of tooth loss when it comes to your confidence. Fortunately, dentures can help. Thanks to high-quality materials, they will rebuild your smile in a natural-looking and durable way. Plus, they will fill-out your facial features, creating a younger and healthier appearance. As a result, you will feel confident in any situation – whether you're heading to a family reunion or walking into a room full of strangers.
Clearer Enunciation
To form words, your tongue moves against the back of your teeth, creating distinct sounds in the process. As a result, even one missing tooth can make it difficult to communicate with those around you clearly. Don't worry – dentures can fill the gaps in your smile to help. While there is often an adjustment period, plenty of practice will help you adapt quickly. Before you know it, your dentures will feel as natural as your teeth!
Improves Nutrition
Gaps in your smile naturally weaken your bite. For this reason, many patients struggling with tooth loss are forced to eat unsatisfying diets that are lacking essential nutrients. Since modern dentures are crafted from high-quality materials, you can enjoy many of your favorite foods again! In addition to making mealtimes more enjoyable, this also benefits your oral and overall health.
Preserves Oral Health
Many patients focus on the aesthetic drawbacks of tooth loss. However, it's important to consider its effect on your oral health too! For example, gaps in your smile can cause your surrounding teeth to move out of place, negatively impacting the alignment of your bite in the process. Of course, that's just one example of many. So, don't wait long to replace missing teeth.
Expands Opportunities
If you don't feel confident, it can be difficult to go on first dates, job interviews, and the like. In fact, you may not even enjoy important milestone events, like your daughter or granddaughter's wedding, to the fullest because you don't want to smile, eat, or speak. Dentures can make you feel like yourself again, allowing you to enjoy every day to the fullest.
Understanding the Cost of Dentures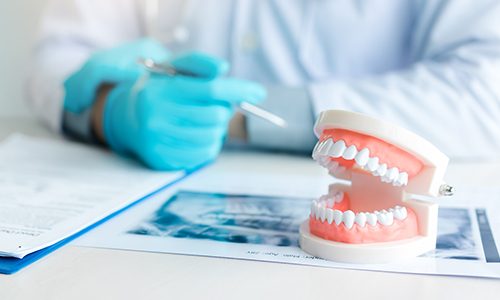 It's natural to have questions about the cost of dentures in Webster; after all, restoring your smile is a pretty big commitment, and you wouldn't want to be surprised when it's time to pay your bill! Our team is happy to sit down with you and go through all of the financial details so that you can rest assured you're lowering your out-of-pocket expenses whenever possible and affordably rebuilding your smile. Keep reading below to learn a little more about some of the factors that normally influence the cost of dentures.
Factors That Affect the Cost of Dentures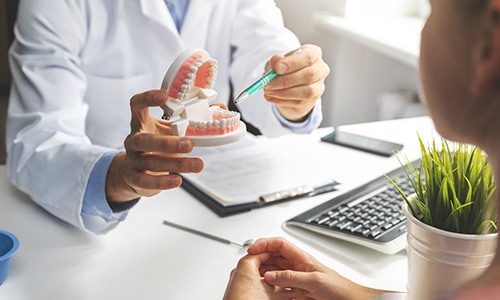 It's impossible to provide you with an exact cost estimate for your dentures until we've had the chance to examine your mouth, since everyone's needs are different. That said, the cost of dentures is usually influenced by three major factors:
The severity of a patient's tooth loss.
The materials used to construct the restorations (such as the type of acrylic used for the base).
The amount of preparation necessary (preliminary dental treatments such as periodontal therapy or tooth extractions).
Are Implant Dentures More Expensive?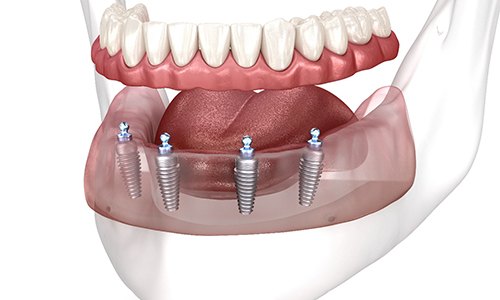 Generally speaking, implant dentures are more expensive than traditional ones; however, this price increase is directly reflected in the quality of the restoration. Implant dentures differ from standard dentures in that they rely on dental implants, which are surgically embedded into the jawbone. These implants fully support and secure your dentures, in addition to providing you with all sorts of oral health benefits that normal dentures simply can't offer including jawbone stimulation and facial support. And better yet, they can last for several decades with proper care, making them undeniably cost-effective since regular dentures often need to be repaired or replaced every 5 – 7 years.
Does Dental Insurance Cover Dentures?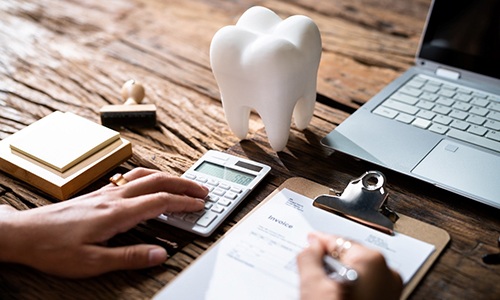 In many cases, dentures are considered a major procedure that's often medically necessary, since they assist in restoring and preserving a patient's oral health. This means that many insurance providers can cover at least a portion of the cost, often around 50%. However, it's always important to check the specifics of your plan before committing to treatment. Our knowledgeable team is more than happy to help you navigate the specific language of your plan so that you know how to take full advantage of your benefits!
Other Options for Making Dentures Affordable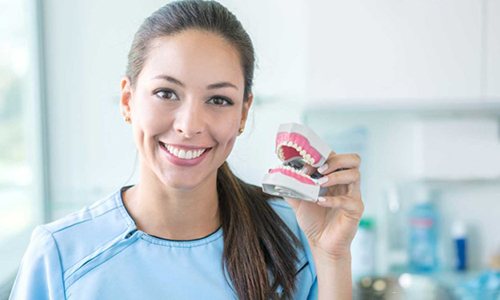 Even if you lack dental insurance, you might still be able to afford dentures without straining your bank account. In addition to accepting coverage from a variety of insurance providers, our practice is happy to offer alternative financing through CareCredit, which will allow you to break up your overall cost of treatment into affordable, monthly installments with little to no interest. Don't hesitate to contact our team today so we can begin discussing your options for affordably rebuilding your smile!
Denture FAQs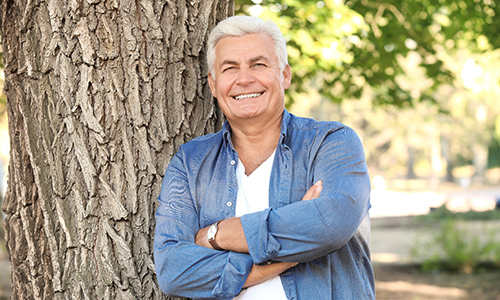 So far, we've covered everything from the different types of dentures to the benefits they come with. Of course, there is a lot more to know about this modern tooth-replacement solution, especially if you are considering them for yourself. Luckily, we're here to make finding the answers simple. That's why we've responded to some commonly asked questions about dentures in Webster. If you can't find the answer you're looking for, then don't hesitate to ask our team directly!
Should I Have All My Teeth Pulled to Get Dentures?
Although each patient's dental needs are unique, the goal is always to preserve your natural teeth whenever possible. If extensive decay, a severe infection, or trauma has made that impossible, then an extraction is necessary. Of course, we will review all of your treatment options and share the pros of each beforehand. That way, you feel confident about your treatment plan.
Can I Sleep with My Dentures?
Since dentures restrict blood flow to your gums, it's best to take your dentures out at night. After all, wearing them non-stop can result in complications like soft tissue irritation, which can be quite uncomfortable. Plus, the 6+ hours you sleep is a great time to give your dentures a deeper clean so they are fresh the following morning. Simply placing them in a glass of clean water or dentist-approved cleaner should do the trick!
Can You Kiss with Dentures?
You can! Of course, it's important to be extremely gentle at first, especially as you adjust to their presence. After all, you don't want to ruin the romantic moment by bumping your partner with your dentures!
Can You Still Eat Steak with Dentures?
It is possible to eat steak with dentures, but it may be a bit difficult without the right precautions. One of the best things to do is make sure your dentures fit properly and that you use a bit of special adhesive so they don't move out of place. Second, use your fork and knife to cut your steak into small pieces. That way, you won't have to overwork your dentures. It's also a good idea to stick to softer sides, like mashed potatoes and cooked green beans, to prevent gum irritation.
Can I Use Regular Toothpaste to Clean My Dentures?
Although regular toothpaste is suitable for your natural teeth, it isn't ideal for your dentures. In short, the abrasive ingredients can leave behind microscopic scratches that can leave your restoration looking dull. So, it's best to avoid using regular toothpaste, especially on a regular basis. Note: you should also avoid using bleach and other household cleaners. If you are unsure how to clean your dentures, then double-check with your denture dentist in Webster!