Cosmetic Dentistry – Webster, MA
Achieve the Smile of Your Dreams
A healthy smile and an attractive smile are two different things. Even if you don't have any cavities or significant dental damage to worry about, there might still be a few chips, minor cracks, gaps, and stains that leave you feeling too embarrassed to grin, and that can take its toll on your self-confidence. If you want to feel confident about showing off your teeth during important social engagements or while taking a picture, give Webster Lake Dental a call and tell us more about the smile of your dreams, so we can begin your smile makeover with comprehensive cosmetic dentistry in Webster, MA.
Why Choose Webster Lake Dental for Cosmetic Dentistry?
Beautiful, Natural-Looking Ceramics
Convenient Take-Home Whitening
Durable Metal-Free Restorations
Porcelain Veneers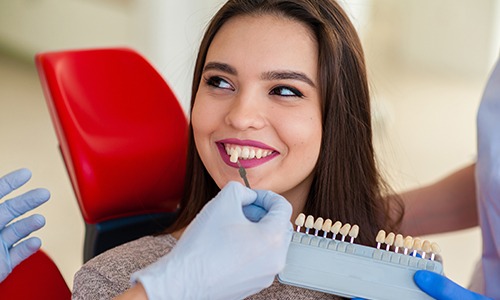 There are few cosmetic treatments that are quite as versatile as porcelain veneers. The way they work is very simple: we just attach thin sheaths of ceramic material to the front of your teeth and essentially make all of the chips, cracks, discoloration, and other flaws disappear. In some cases, veneers can even be a solution for issues that would have to be addressed with orthodontics. It takes just two appointments to prepare the teeth and place veneers in order to completely transform the smile.
Metal-Free Dental Restorations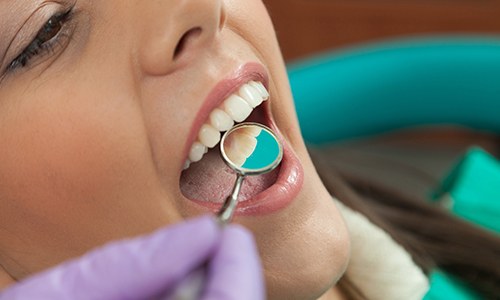 Do you want a crown that could be mistaken for a real tooth? If so, we can't use traditional silver amalgam or similar materials. They're far darker than enamel and stick out like a sore thumb in any smile. Luckily, modern dentistry has developed crowns and other restorations made out of tooth-colored materials that are durable enough to withstand the stresses of chewing yet do not detract from your overall appearance. When we design restorations, we make sure that they're fully personalized for the patient in question.
Cosmetic Dental Bonding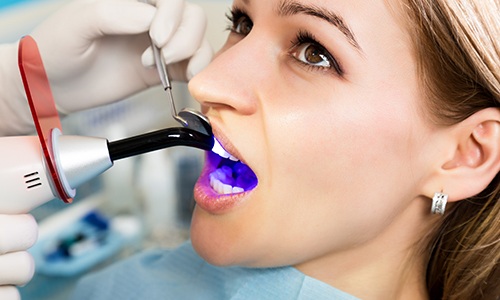 If your smile just needs a little touch-up to really shine, cosmetic dental bonding is often the perfect quick solution. Composite resin (the material used for fillings that blend in with the enamel) is applied to the tooth and gently molded and shaped to hide various flaws and match the enamel as closely as possible. It can address many different cosmetic issues, but unlike veneers, it normally only takes one appointment to complete the bonding process.
Teeth Whitening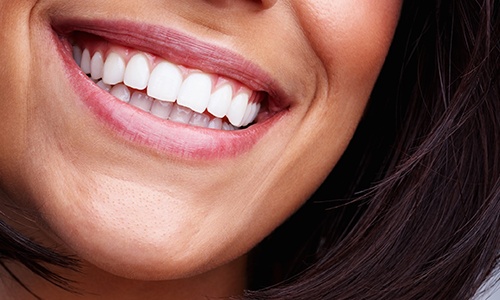 A whiter smile is often more memorable and makes a more favorable impression. It's little wonder, then, why teeth whitening is one of the most popular cosmetic treatments available. Both in-office and at-home whitening solutions are available. Furthermore, it's possible to continue whitening the teeth throughout the year to maintain the results over the long-term. That way you can keep your smile photo-ready and maintain your boosted confidence whenever you spend time with your friends and loved ones.
Gum Recontouring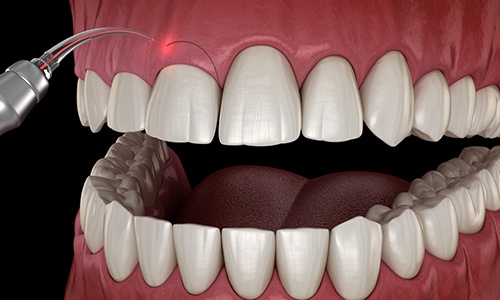 Your teeth aren't the only things you need to be concerned with when it comes to your smile. An excessive amount of gum tissue can throw off the balance of your grin, making your teeth look far smaller than they should be. If we find any gum tissue that you don't need, we can gently remove it with a gum recontouring procedure. This is also an excellent way to even out the gum line. This is a minimally invasive and conservative process; we'll make sure to maintain as much of the natural gum tissue as possible.
Cosmetic Dentistry FAQs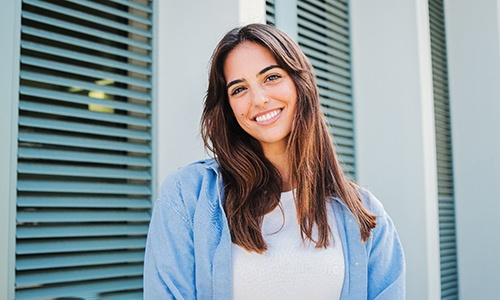 Reading through the above information can give you an idea of all of the smile-enhancing treatments available to you, but what if you still have questions on your mind? If you do, then you're in the right place! We've dedicated this next section to answering frequently asked questions about cosmetic dentistry so you can continue your research right here.
How Long Does Cosmetic Dentistry Last?
The lifespan of your results will depend largely on the treatment you choose. For example, while veneers can last for upwards of three decades, teeth whitening typically lasts for a few years at most. That's why it's important to consider more than just the upfront cost of your smile transformation. In some cases, the more "expensive" treatments end up being the best investment!
Another important factor that will impact the longevity of your results is how well you care for your smile. If you smoke, skip your biannual checkups and cleanings, and don't implement a solid oral hygiene regimen, then it's likely that chips, stains, and other imperfections will resurface quickly. That's why we encourage our patients to take proactive measures to keep their dental work and teeth in pristine condition.
How Can Cosmetic Dentistry Change Your Life?
It's common for patients to only consider the most obvious benefits of cosmetic dentistry at first, like the positive impact it can have on your self-esteem. While that's noteworthy, there are other perks that you should consider. To begin, addressing chips, misalignment, and other common dental flaws can benefit your oral health as well as the function of your smile. Furthermore, there have been countless studies that show that job applicants with beautiful smiles are more likely to receive an offer, meaning investing in cosmetic dentistry is like investing in your career!
Another important factor to consider is that your smile is one of your most prominent features. In fact, it's one of the first things others notice about you! As a result, if your teeth are cracked, yellow, and brittle, you may be making a poor impression on dates. A bright, beautiful, and balanced smile lets the person across from you know that you have good oral hygiene and that you take care of yourself, helping make a more positive impression.
Simply put, cosmetic dentistry has the potential to change your life for the better in several ways, from improving your career opportunities to your love life!
How Do I Know If I Need Cosmetic Dentistry?
Technically, no one "needs" cosmetic dentistry – it's not medically necessary. With that said, you should schedule an appointment with our Webster dental team if you are having trouble smiling confidently. That way, we can learn all about your aesthetic concerns, review the available treatment options, and create a custom plan to make your dream smile a reality.